Our cruise holiday expert, Julie, and some of our other holiday experts, took a trip on board the NCL Getaway, specially invited by one of our favourite cruise providers Norwegian Cruise Line to experience this stunning ocean liner for themselves in September 2021. She sent us some great updates from on board and since we love to share our own holiday experience with you the customer, we thought we'd share them here. Now our team has returned from their cruise adventure and you can the verdict below.
Just a quick update on my travels so far!
We flew from Dublin Airport earlier today. The airport was busy but I had downloaded the Verifly App which made everything very straight forward (right now, Verifly is only accepted by Aer Lingus who I was flying with).
I would highly recommend anyone that can avail of this app to do so. I had uploaded all the passenger locators needed as well as my COVID Cert so I just needed to show my phone with the status ready to travel.
Safe & Sound
Good morning from NCL Getaway - I'd like to share a bit about what NCL Cruises are doing to keep all passengers safe and happy during their cruise holiday as I know this is a concern for a lot of our customers. Here's a few pictures of the test centre we had to go through before boarding, presenting all of our documents, our proof of vaccination and testing. The process was really well-organised and it was reassuring to know that all passengers on board have been thoroughly checked!
After the sail away party, we had dinner and a few drinks. I would highly recommend the drinks package that can be added on for 99pp for the week which is such amazing value. The restaurant last night was 1 of the specialty restaurants. Had breakfast this morning in the Garden Terrace which is the Buffet food was fab and the waiters just hand you the food. Masks must be worn in public areas at all times.
We have arrived in Palma and NCL have a complimentary shuttle bus to the city. Guests are free to do their own thing today or they can avail of NCL's exciting shore excursions.
So far our time on NCL Getaway has been fantastic. We sailed at 5pm from Rome and are at sea all day today. The ship is fabulous as you can see from these pictures! We took a tour of all the facilities from the slides perfect for kids to the decks perfect for lounging around in the sun. The theatre has tons of entertainment and there's a great variety of restaurants on board.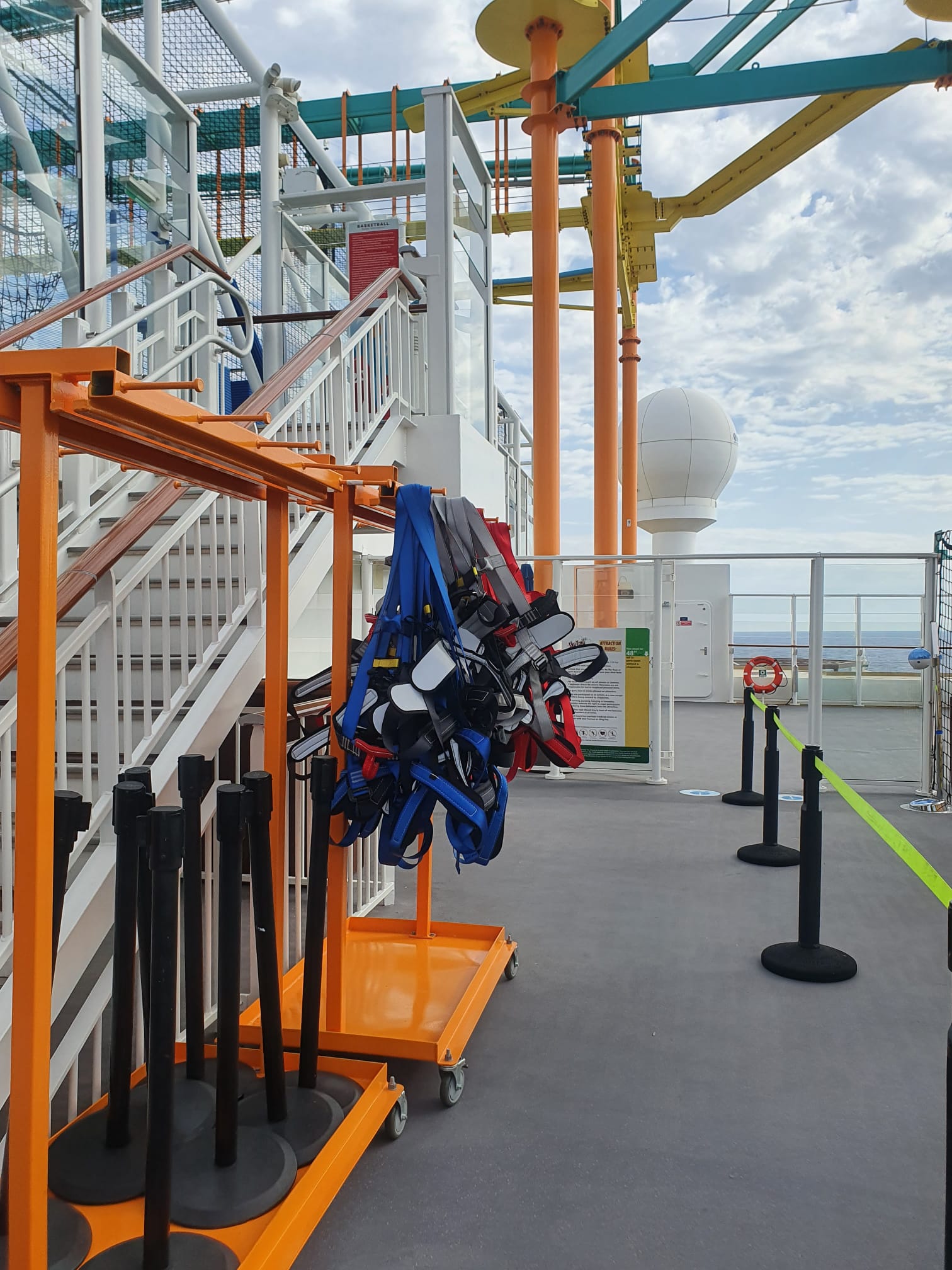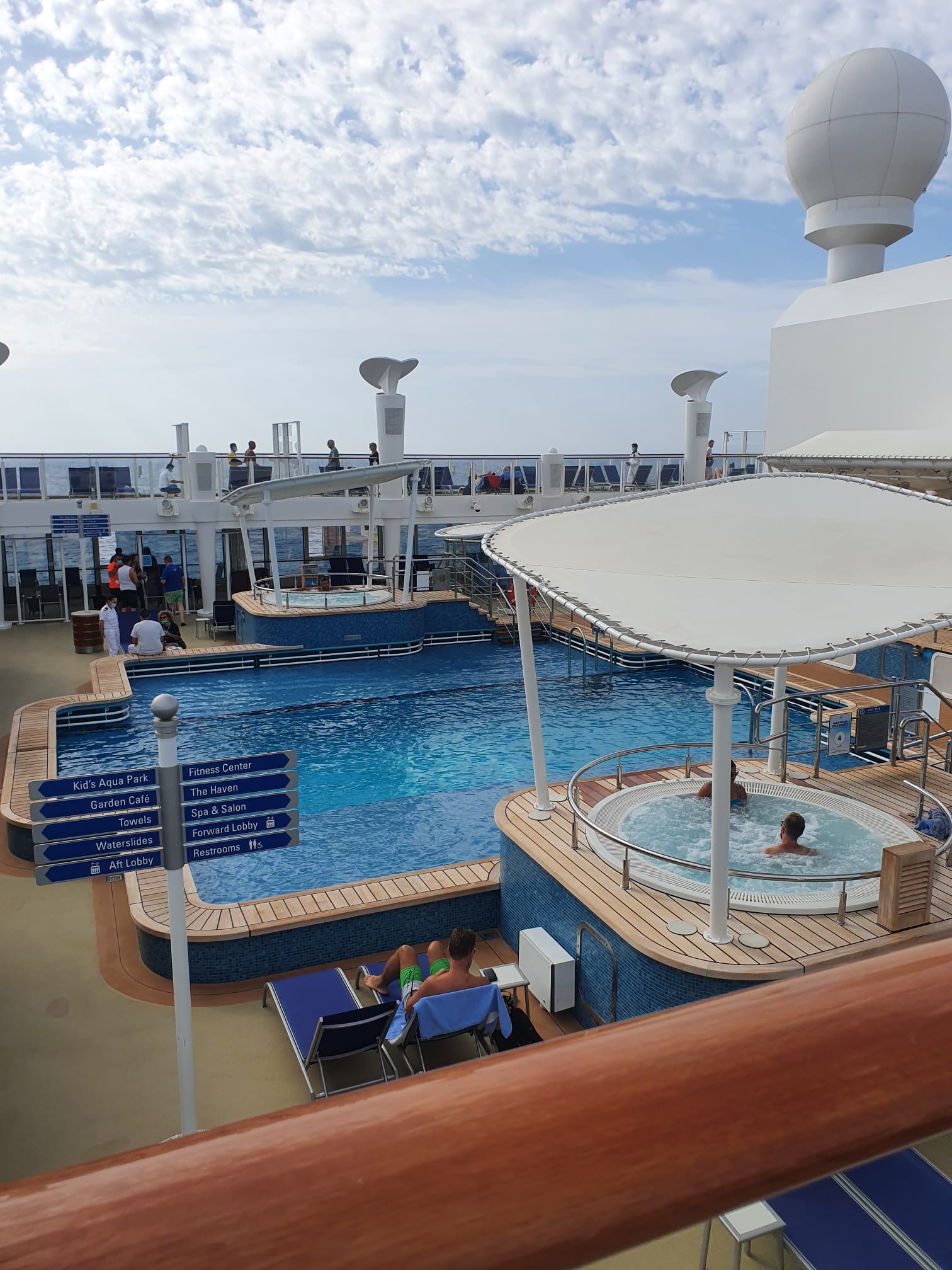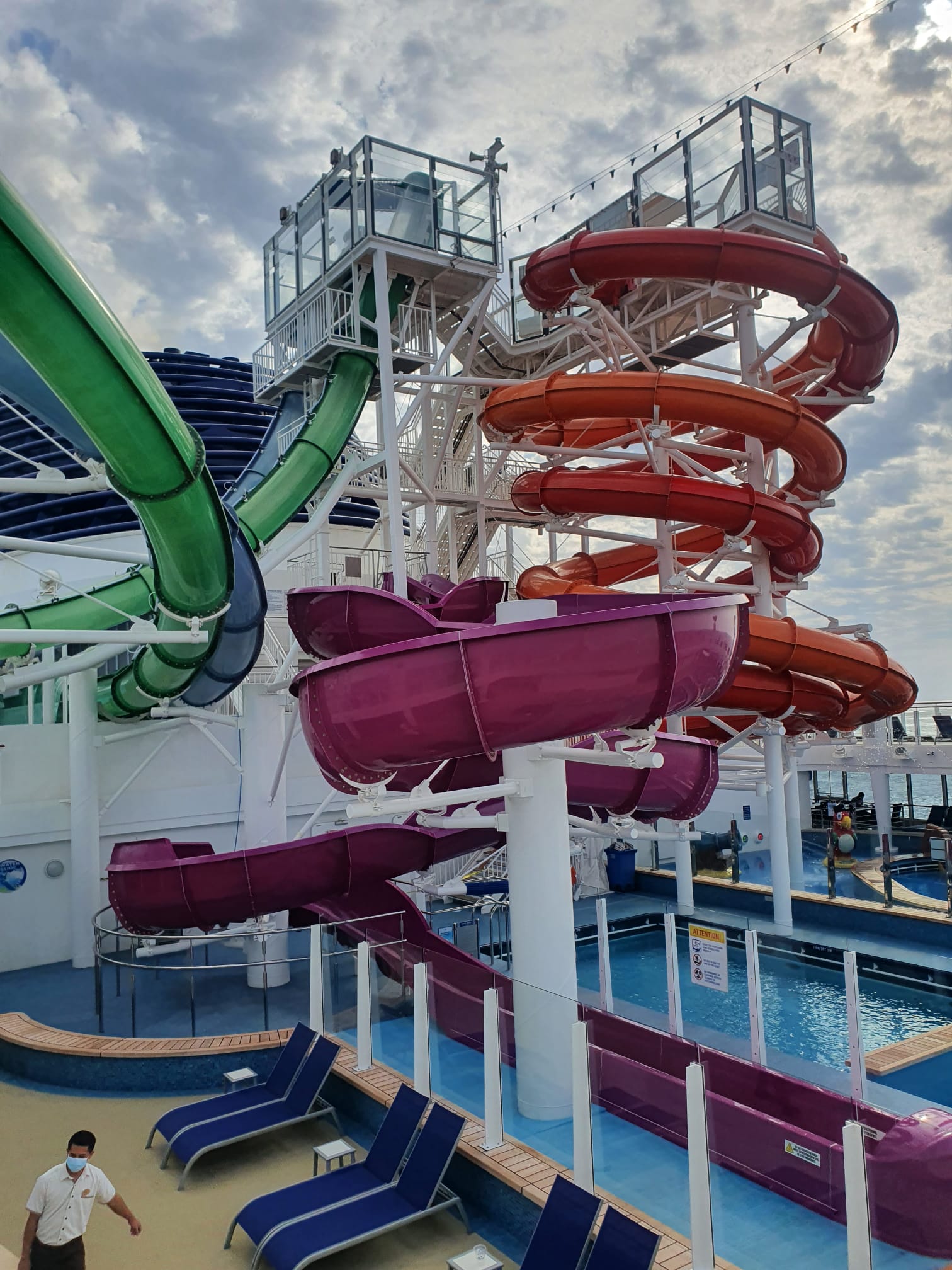 Yesterday was a Sea Day so there was lots of Activities and entertainment throughout the ship. We headed out to the Vibe Beach Club which is an adults only area on the ship with Cabanas, large sunbeds and an oversized hot tub. This was complimentary for this cruise but usually there is a fee.
We've been having the most fantastic time on NCL Getaway.
The food is a real highlight!
We had dinner last night in La Cucina, the Italian specialty restaurant and once again the food was excellent. The H20 Spice Club had a glow party right after and the staff had everyone dancing with glow sticks and light-up batons.
We also sampled dinner in the Main restaurant and the Freestyle Dining Concept is fantastic, it really makes your meal into a memorable occasion for all.
The ship guide is now all digital and although it's on the NCL app, I think having full WiFi would be a great help. I would recommend getting the WiFi when you board as there is a lot you need the phone for.
We had dinner in Tropicana last night, one of the main restaurants, and the food was stunning. We then went to the Spice H20 which is an outdoor club and last night it was a 70s night. The staff had everyone up dancing the night away.
The Verdict!
It's an A+ from us!
NCL Getaway is an absolutely stunning ship, and I really feel it has something to suit every age group. There is plenty to do on board from fun waterslides to simply lounging in deck chair with your holiday reads. The choice is endless and something for all ages. There is also fantastic children's facilities on board for when they can sail again with NCL. The food is amazing and so much to choose from without even mentioning the speciality restaurants. The staff were all so helpful and friendly from the moment we boarded, nothing is too much to ask of them.
I would highly recommend the Free at Sea that NCL offer so for €99 you get to choose from Premium Drinks, Speciality dinning's, Wifi , and a shore excursion credit. They've got some amazing promotions right now.
Some points to note when travelling.
If flying with Aer Lingus download the Verifly app. This app allows you upload all the documents needed and was so handy to have them all in one place

Aer Lingus are not currently serving food on board so maybe get something at the airport as by the time we got to the ship we were pretty hungry!

NCL does an Antigen test at the port before you can board but it's advised to have one done one yourself within 72 hours of travel and then in the event of a positive test NCL will offer a refund as well as look after all the necessary arrangements

The wi-fi is great value on board and I would recommend availing of this on the first day to get the best use of it